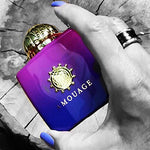 An invitation to step into the Enchanted Forest. The clearing is sunny and warm. The scents pull you in deeper. Green, floral, a bit damp and the animals are nearby...you can smell them.
Presenting Amouage Myths Woman. 
This is Christopher Chong breaking the rules and bending reality. Bravo! 
Visit us to appreciate this breathtaking beauty.